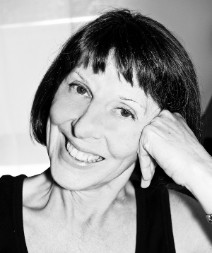 Welcome to My Site: Spiritual Tours and Sacred Travel to Egypt, Tarot, Astrology, Energetic Healing, Shamanic Sessions, Celtic Tree Calendar Teachings, Tree Readings, and Alchemical Healing Sessions
Sharlyn Hidalgo, MA and Alchemical Healing Arts
See my pages on Facebook:
The Dahabeya Afandina
Alchemical Healing Arts
Nazmy - Love is My Religion: Egypt, Travel, and a Quest for Peace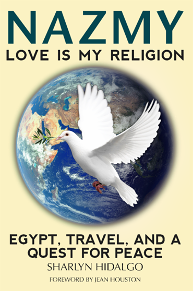 Thank you so much to all of you who contributed to my Indiegogo Campaign to raise funds to publish my book about Mohamed Nazmy, Quest Travel, spiritual pilgrimage in Egypt, and Mr. Nazmy's vision for creating peace through travel. The book is entitled Nazmy - Love is My Religion: Egypt, Travel, and a Quest for Peace.
The book is available now.
Ebooks are available at Amazon.
See Below for how to buy the book through paypal. You may also send me a check. Just email me at Sharlynhidalgo@hotmail.com.
An Interview about the book:
Here is an interview about the book given on Oct. 27,2015. Copy and paste the link:
https://soundcloud.com/news-for-the-soul-radio/luminary-for-emergence-with-suzanne-ragan-lentz-oct-2715
Nazmy - Love is My Religion: Egypt, Travel, and a Quest for Peace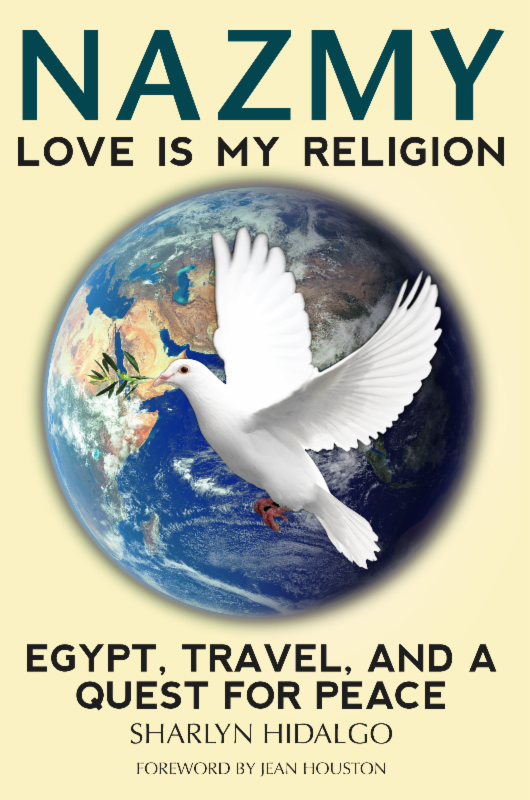 $ 23.17 USD
United States:
$19.95 plus shipping of $3.22 in the US: $23.17
Nazmy - Love is My Religion: Egypt, Travel, and a Quest for Peace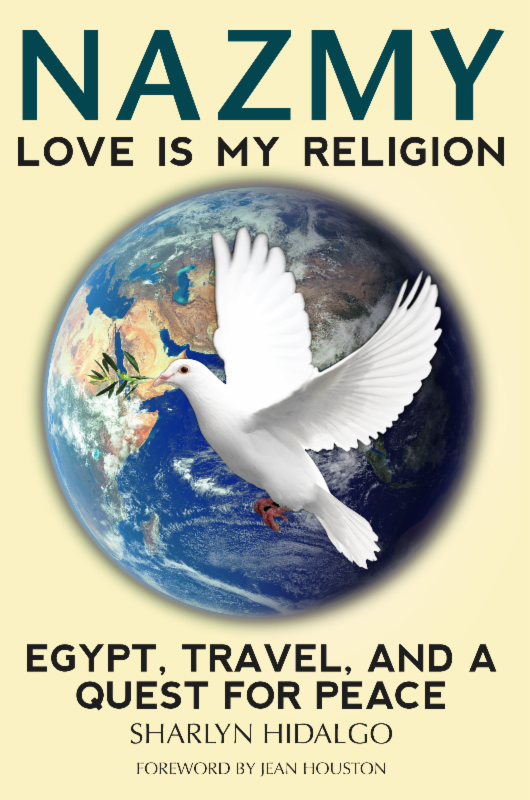 $ 33.15 USD
To Canada:
$19.95 plus shipping of $13.20 to Canada: $33.15
Nazmy - Love is My Religion: Egypt, Travel, and a Quest for Peace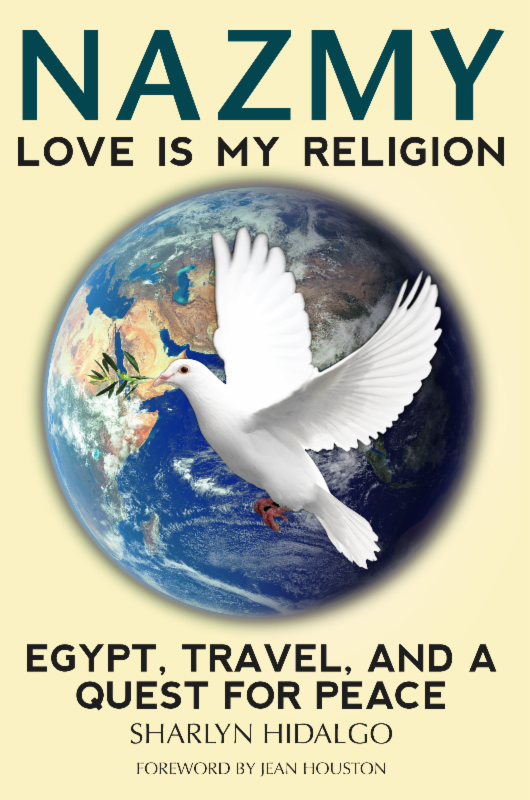 $ 39.85 USD
International Shipping:
$19.95 plus international shipping of $19.90:
$39.85
Book orders can also be made through the link below.Copy and paste the link. http://www.maureenstgermain.com/nazmy-love-is-my-religion/
Egypt Tour
Our spiritual pilgrimage to Egypt in September of 2014 with Sharlyn Hidalgo and Irene Iris Ingalls was an awesome journey and a trip of a life time. Thank you to the group who traveled with us and trusted us to guide them through this pilgrimage of the heart. Thank you to Mohamed Nazmy, Emil Shaker and all of the folks at Quest Travel in Egypt!
Information about upcoming journeys to Egypt.
Look for a new trip offered in 2017. My friends Beth Shermer and Irene Ingalls will be leading this tour. Go to this website to find out more about their trip:
//thealchemyschool.com/mysteries-of-egypt-tour-spiritual-travel-egypt/
I will be traveling again probably in 2017. I am always so excited to offer this magical spiritual trip as it is such a joy to travel to Egypt on a spiritual journey. Traveling in this way can only escalate your personal journey and add to your own spiritual understandings. We will be able to spend 9 nights on Mohamed Nazmy's beautiful and luxurious sailing boat called the Afandina. This allows us to travel slowly down the Nile and stop when and where we want thus we avoid the crowds and have a totally different trip than most tourists. We will have special access to the sites where we will do ceremony and have private meditation time. We will also have private time at the Sphinx and at the Temple of Philae plus a final private culminating ceremony within the Great Pyramid. Mohamed Nazmy of Quest Travel, who will provide us with our trip, has become a special friend and he will do everything in his power to provide each of us with the trip of a life time. Email me at Sharlynhidalgo@hotmail.com and also click above on to to my website page at Spiritual Travel to Egypt to learn more about the itinerary of the spiritual pilgrimage offered. Please let me know if you are interested for an upcoming visits and I will email you more in depth information.
Other Offerings:

Video Interview: Watch this video of an interview with me about my book the Healing Power of Trees on July 8, 2012: http://youtu.be/O7vDIzKJX2M

Check out my Amazon #1 bestseller. You can buy my new book The Healing Power of Trees: Spiritual Journeys Through the Celtic Tree Calendar from www.amazon.com.

Celtic Tree Calendar Apprenticeship: On going. Contact me for information.

Tree Readings: Email me for a reading. I tune into your inner tree and the tree shares a message for you. Can be done in person, by Skype, or phone.

Alchemical Healing I Classes: On going. Contact me if you are interested in beginning a new series.

Alchemical Healing II Classes: Ongoing. Email me for the details.

Tours to Egypt: You can see a typical itinerary right here on my website. I will be taking tours in the future. Email me for more information at Sharlynhidalgo@hotmail.com

Article in The Llewellyn Journal: Read my article having to do with the ancestors and the healing power of trees. Link to http://www.llewellyn.com/journal/article/2151
Radio Show: Listen to a radio discussion about my book The Healing Power of Trees.



About Me: Hello, I am a metaphysical teacher and healer. I am dedicated to healing and transformation. I believe we are all light workers involved in the process of waking up. I offer many services and I am here as a facilitator to encourage you to find your own truth. I am devoted to the raising of our consciousness and I am active in the transformation of the understanding of our true nature as spiritual beings in physical bodies.
We all have a special destiny. I am happy to help my clients open to this and to transform that which has wounded them and that which has held them back from their dreams. I delight in helping my clients and students to find their soul's purpose and to connect with their own meaningful expression of the divine. It is my joy to watch the enfoldment and empowerment of those I work with as they move towards their creative passions.
I believe that we already live in a paradise and that as we remember our true essence, we will understand our special responsibility as stewards of our mother earth and we will appreciate her gifts as sacred. I believe that each of us is an expression of the divine with great work to do.
I am here to assist in the transformation of our consciousness so that we may navigate these challenging times of great change. We are powerful and loving beings at our hearts and I am dedicated to midwifing these realizations. I am also a fellow pilgrim along the path!
Contact me at Sharlynhidalgo@hotmail.com
To sign up for Sharlyn's newsletter please submit your email information here.