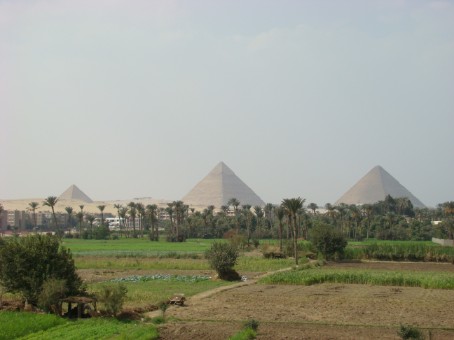 April 30 - May 13, 2017
General Itinerary for Egypt 14 Day Tour: Maximum 16 participants
Day 1: Sunday, April 30: Depart for Cairo on Egypt Air:
Leave New York's JFK airport at 6:30 PM. Over night on the plane.
Day 2: Monday, May 1: Arrive Cairo/ Welcome Dinner: Arrive at Cairo Airport at about 11:25 am local time where we will be met by our Tour Managers of Quest Travel and transfer to our luxury accommodations.
We'll have an opening circle and welcome dinner nearby. (Dinner)
Day 3: Tuesday, May 2: Giza Plateau/ Sphinx/ Sakarra: Today we start our tour with a very special exclusive early morning visit to the Giza Plateau. We will have a private initiation at the Great Sphinx and then take a camel ride up to the Pyramids of the Giza Plateau. Our guide , who is an encyclopedia of Egyptology, will share various controversial theories surrounding these amazing monuments.
This afternoon we travel by luxury bus to Sakkara, where we visit the oldest pyramid, the Step Pyramid of Djoser, and its temple of sound and healing. Sakkara was masterminded by Imhotep, the high priest vizier and architect of King Djorer during the 3rd Dynasty. This magnificent site includes other Old Kingdom tombs, which house the famous Pyramid Texts, the oldest written spiritual texts in the world. Here we enter one of these Old Kingdom tombs where we can see the Pyramid Texts. We interact with these teachings to engage with our highter self. These earliest known spiritual hieroglyphs were the model for the Egyptian Book of the Dead.
Overnight at our hotel. Dinner on your own. (Breakfast, Lunch)
Day 4: Wednesday, May 3: Cairo Museum/ Visit Old Cairo/ Flight to Aswan: We visit the famous Egyptian Museum with a collection of relics dating back to 4,000 BC.. The museum of Cairo hosts an astounding collection of Egyptian antiquities and exhibits over 120,000 objects, including 1,700 artifacts from the tomb of Tutankhamun.
We spend the afternoon visiting Old Cairo. We will visit St. Sergious and Bacchus (Abu Serga) is a 4th century church and today is considered to be the oldest of Cairo's Christian churches. It is dedicated to two early martyrs and is traditionally believed to have been build on the spot were the Holy Family, Joseph, Mary and the infant Christ, rested at the end of their journy in Egypt. We will also visit the Sufi Rafaai mosque and the oldest Synagogue in Cairo.
We Then we transfer to the Cairo airport for an evening flight to Aswan and check into our luxurious yacht, the beautiful Afandina. (Breakfast, Lunch, and Dinner)
Day 5: Thursday, May 4: Aswan/ Abu Simbel/ Aswan Market: This morning we drive to the Sahara Desert to Abu Dimel, cut from a mountain for Ramesses II and his beloved wife Nefertari. This magnificent temple is both an ancient and modern engineering marvel as it was moved and saved through an international campaign when the area was flooded due to the new dam. We return back to our boat in Aswan to enjoy our dinner. You may want to venture out to do some shopping at the Aswan market.
Here at Aswan we find the mythical origin of the Nile River and the home of the Nubian kings and queens during the later dynasties of Egypt. We pay homage to Elephantine Island and the layers of time that archaeological explorations have unveiled. Etherically we imagine ourselves atop the island as we gather at the Temple of Knum, Satet, and Anket. We ask for protection and permission to travel in Egypt in our sacred way. We call on the great and ancient mother Satet for support and love and we give our gratitude to the waters of the Nile and the waters of the world. (Breakfast, Lunch and Dinner)
Day 6: Friday, May 5: Philae Temple of Isis/ Sailing on to Kom Ombo:
In our private sunrise meditation and ritual we return to the source of all, the Great Mother. Here we receive the blessings of Isis at her beautiful island temple at Philae. This isle represents a fusion of three great civilizations – Egyptian, Greek and Roman. The presence of Isis is palpable in the inner sanctum, the Holy of Holies of her temple.
Later we gather in circle to share our experiences as we sail to an island near Kom Ombo. (Breakfast, Lunch, Dinner)
Day 7: Saturday, May 6: Kom Ombo Temple/ Sail on to Edfu:
We visit the Temple of Horus and Sobek at Kom Ombo. Sobek is the crocodile god of strength, fortitude, fertility and rebirth, and Horus the son of Isis and Osiris and is the reprsentative of the light and our higher aspirations. Here we work with polarity and wholeness. This is a temple dedicated to the teaching of how to encompass duality through unity. The duality of light and dark, yin and yang, and consciousness and unconcious are apparent at this site. One of the morst powerful places at Kom Ombo is the Seat of Neutrality, which is placed on the exact center line between the two halves of the temple that are dedicated to Horus and Sobek.
Circle after lunch. Sail on to Edfu.
We visit Edfu in the afternoon, evening, or early next morning. This temple is dedicated to Horus, one of the nost beautifully preserved in Egypt. Here we work with the activation by Horus of the solar principle. When you approach the temple complex, you become aware of its enormous dimensions, with a vast courtyard, a forest of towering columns, and high ceilings. The side chambers of the temple show the complexity of ancient rites; they include a healing chamber, a perfumery, and the singers' rooms. One chamber, called the House of Life, stored all of the sacred texts used in seasonal and daily rituals.
Horus is associated with higher vision and clarity. The eyes of Horus greatly relate to his myth and power. The right eye is connected to the solar enegies, the masculine, action, and yang energy. The left eye represents the lunar energies, the moon, the intuitive, and the feminine receptive energies. Both are necessary for true power to exist.
Here we will work with balancing the lunar and the solar energies inside of us and we will awaken our intuitive centers so that we may be able to experience a higher perspective. Each of us will stand before Horus to receive an empowering activation to spur us towards our personal aspirations and goals and dreams.
Overnight on the Afandina. (Breakfast, Lunch, Dinner)
Day 8: Sunday, May 7: Sail from Edfu:
We enjoy our breakfast as we sial along the nile and watch the farmers and the countryside of Egypt. We visit a village to experience local life.
Circle. (Breakfast, Lunch, Dinner)
Day 9: Monday, May 8: Sail from Esna to Luxor/ KarnakTemple: We spend the day sailing from Esna and traveling through the locks to Luxor.
When we arrive at Luxor we will visit one of the largest temple complexes in the world, Karnak. This temple is dedicated to Amun, Mut, and their child Konsu. As you enter, you walk between rows of rams-headed sphinxes, which origianlly connected Karnak to Luxor Temple two miles away. Take some time to visit the sacred lake of Karnak, and ask for purification as you place your intenbtions for your life into the lake to support their manifestation. We will fisit the altar of Amun for a powerful activation of solar energies.
Outside the main temple structure is a small chapel dedicated to Sekhmet, her consort Ptah, and their son Nefertum. This chapel has been home for more than 3,500 years to the living statue of the lioness goddess, Sekhmet, who will initiate us with her fierce compassion. Sekhmet offers her gifts to you. She is a known for her healing abilities and she can help hunt down any inmbalance at its origin. She is assoicated with unconditional love, compasssion, and courage. She is also associated with feminine fire and she can burn away that which you no longer need or want or that which is holding you back. In a potent private initiation we will honor the Goddess and recieve the gift of courge to be our authenic selves.
We will have time to explore the beautiful town of Luxor either before or after our visit, depending on the timing of the moment. Circle. (Breakfast, Lunch, Dinner)
Day 10: Tuesday, May 9:The/West Bank/ Valley of Kings andthe tombs of the Pharaohs: This morning we make a sunrise pilgrimage to Deir el Bahari, the funerary temple of the female pharaoh Hatshepsut. Here we will meditate at the beautiful side temple dedicated to Hathor, and spend time in the sanctuary dedicated to Anubis where we will ask for his blessings and guidance. We will also visit the mortuary temple of Ramses III at Medinet Habu. There are rooms in which singing or toning will awaken you to your own magnificence.
We also visit the Valley of the Kings and the tombs of the pharaohs that are inscribed with sacred transformative texts including the books of knowing light and dark, the book of what is in the underworld, the book of caverns, and the naming and taming of the hours of the night. Here are the tombs of the New Kingdom pharaohs such as Tutankamun, Ramses III and VII, Seti I, Thutmosis III, and many others. Here we take time to honor our ancestors and the mysteries of the afterlife.
We will visit the Colossi of Memnon. This evening is free for you to explore the wonders of Luxor's market. (Breakfast, Lunch,Dinner)
Day11: Wednesday, May 10: Dendera/ Abydos: In the early morning we travel by bus north to the exquisite temple of Hathor at Dendera where we will meet and work with the cow goddess of love,joy,and abundance. She is also goddess of ecstacy, inebriation, dance, song, and sensuality. The temple is build with a zodiacal ceiling that recalls the origins of Egypt. On the rooftop we envision Hathor priests and priestesses gathering for their celebrations in ancient times. At Dendera we connect to our birthright of instinctual bliss and joy.
In the afternoon we travel to the magnificent temple of Abydos which is dedicated to Osiris. This temple rests next to and above the most ancient Osireion, one of the premier power places on the planet. This site also includes a more recent temple built by Seti I, which contains the most beautiful bas reliefs of any temple in Egypt. Here we let go of what we no longer need, and we experience rebirth and regeneration with the help of Osiris. Overnight Afandina. (Breakfast, lunch, dinner)
Day 12: Thursday, May 11: Free time/ Luxor Temple:

We have free time in Luxor for shopping or visiting

the Luxor Museum or for perhaps returning to Karnak.
In the evening we will pay a night visit to the Temple of Luxor were we are able to see that this temple is built like a human body; the outer layers represent the feet and as we move deeper into the temple, we move towards the head where the holy of holies, the inner sanctuary is located. This is a wonderful place to focus on physical healing. As you walk through the body of this temple notice how your body feels, and remember radiant health. Ask to return to your perfect blueprint of health.
We also awaken to our own stellar origins and our mulitdimensionality. This temple will awaken the parts of you that have been sleeping; your psychic and intuitive skills will be enhanced. The temple will activate divinity codes and turn on your radiant inner light. (Breakfast, Lunch, Dinner)
We say goodbye to the Afindina and all of our new friends who have made our stay so amazing.
We take an evening lfight to Cario, where we will check into the Mena House in Giza.
Day 13: Friday, May 12: The Great Pyramid/Khan El Khalili Bazaar/ Farewell Dinner:
In the morning we will have a special private visit in the King's Chamber of the Great Pyramid. Here we will tone together and make our prayers. Here is our culminating ritual where we unite our life story wth the story of those who have gone before us and those who will come after as we embrace the transformations that we have experienced in Egypt. We will have two hours in the pyramid and there is time to visit the underground chamber and the Queen's Chamber.
If you wish you have free time in Cairo for shopping at the Khan khalili Bazaar. The atmoshpere of this traditional market, together with the labyrinth layout of the strees fives you a liipse into what medieval markets wer like.
Afterward we have our farewell dinner to share our experiences. Overnight at Mena House. (Breakfast, Dinner)
Day 14: Saturday, May 13: Departure:

We depart for New York on Egypt Air flight at around 9:10 AM, and arrive at New York's JFK at 3:15 PM. (Breakfast

)
Contact Info:
Mena House Oberoi
Pyramids Rd., Giza, Cairo, Egypt
Phone: 202-3377-3222
Fax: 202-3376-7777

Quest Travel
Phone: 202-3376-8444, 202-3376-8000
Fax: 202-3376-3810
Cell Phone: 2-010-1600300

*When dialing from the US add 011- to each of the numbers above






Testimonials for Egypt:
Below is my little testimonial. Thanks again for having me along for the ride.....
The trip to Egypt with Sharlyn was an amazing experience. She personified the heart and high-mindedness of the Egyptian pantheon in leading our group. The amazing energetics of the ancient sites, from the Sphinx to the King's Chamber in the Great Pyramid and all stops in-between, resonated in powerful ways throughout the two weeks. From "wow moment" to "wow moment", a great time!
Jonny Hahn, May 29, 2012, Seattle, WA
I cannot begin to say enough about the quality of my experience in Egypt with Sharlyn Hidalgo. The trip was magic from start to finish, exceeding all expectations. Nothing can compare to the beauty and tranquility of cruising down the Nile on the Afandina; it is a little jewel. The accommodations, the food, the friendly and attentive crew -- it was all first-class. Every aspect of the trip was carefully thought out and beautifully orchestrated so that our group was able to be by ourselves in the various sacred sites -- the Sphinx, the temples, the pyramids and others – so that we could deeply absorb their offerings. Our guide, Emil, was both crazy fun and thoroughly knowledgeable, and he did everything possible to fulfill our every wish. Sharlyn led the group with a gentle, caring touch and a lot of humor. Her passion for Egypt, immersion in its mysteries and skills as a leader of ritual and ceremony allowed us all to experience the various sacred sites at deep levels, not just for our edification and enjoyment but to transform and grow in spirit.
Sandy Nisley-Leader, June 23, 2012, Carmel Valley, CA
Wow, a testimonial! Where to start or end to describe the trip of a lifetime? Briefly, it was beyond my imagination or dreams. So well organized, first class treatment throughout, an incredible view/introduction to Egypt and it's many facets. From pyramids, to temples, to market places, to farms, the town of Esna for a step back in time, the Incredible Nile river and it's amazing scenery, and so much more to mention. The Afandina experience still amazes me, the beautifully scripted ceremonies you held at the temples, Emil's in depth knowledge of history and Egypt, all memorable and incredible. I would do it again in an instant, and with Quest Travel with Mohamed at the helm is a gem unto its own. Everyone in the organization is first class, and you and Ricardo were precious. Thank you so much.
Much love, Eddie Hidalgo, June 25, 2012, Stuart, Florida
This is my second trip to Egypt with this tour group, on this boat, with this crew. Again, I fell in love with the kindness, generosity and warmth of the Egyptian people, especailly our crew on the boat. I feel so blessed to have been able to visit the sacred sites at sunrise or after sunset with no one else around but our small group. It's one thing to read about the sites and to experience them during meditations at home, and it's quite another to actually stand where millions have worshipped and guarded the mysteries for thousands of years. The profound transformation I experienced rocked me to my soul. To say the cost is worth it would be an understatement.
All I have to do is close my eyes, and I'm sailing up the Nile on the Afandina, enjoying the luxury, the lazy days, swimming in the river, the food. The food! I attribute this ease to the careful planning of Mohamed and his team at Quest travel. To Emil, our Egyptologist—kind, spiritual, hilarious, and eager to accommodate whatever we needed. Sharlyn, our tour guide, held and transmitted the energies and light for us all. She is a truly gifted, a sweet, gentle powerhouse, full of humor, grace, and knowledge of all things Egypt. And Ricardo, her husband and assistant on the tour was right there for anything we needed. A true joy. Together, they led us brilliantly. I'm going again. I can't stay away.
Kelly Malone, June 27, 2012, Seattle, WA
My trip to Egypt was the most incredible, special, and utterly moving adventure of my life. I have Sharlyn Hidalgo, Quest Travel, and my fellow travelers to thank. As it was my first experience traveling internationally, I didn't know what to expect other than I knew that I was supposed to go on this journey. Sharlyn made me feel loved and honored...she has an incredible way of showing and giving love, and it was her kind spirit that made me feel at home in Egypt. Sharlyn and Quest Travel made my experience more than I could have ever imagined. Almost immediately after returning to the States, huge life changes occurred for me - shifts I was not expecting, and the effects of Egypt are still unraveling, even months later. The love and kindness I received during my 15 days there was the most blissful experience, and I cannot wait for my return to Egypt and the Afandina. Words cannot describe what Egypt means to me. Experience it. Go and feel the bliss!
Julie Woodburn, August, 2012, Maryland