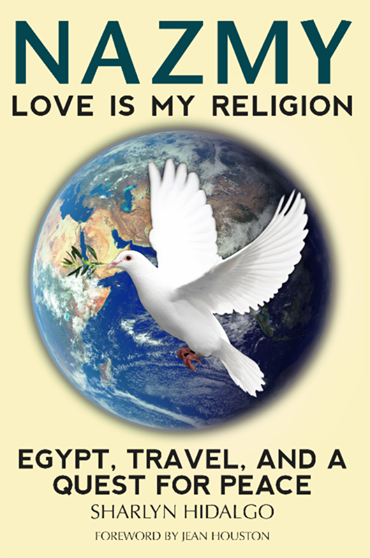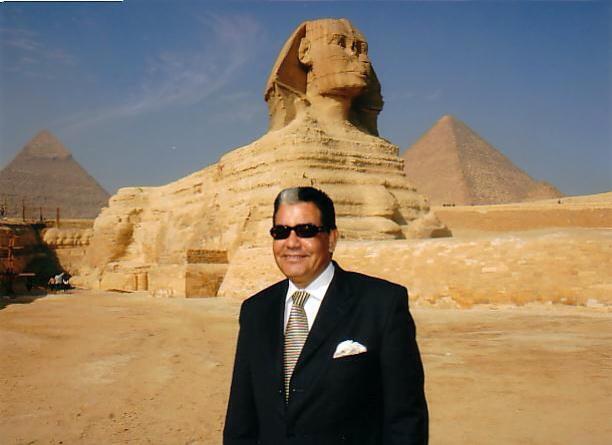 Seattle author Sharlyn Hidalgo is proud to present: Nazmy – Love is my Religion: Egypt, Travel, and a Quest for Peace with foreword by Jean Houston.
This is the story about a spiritual mentor and spiritual consciousness-raiser, Mohamed Nazmy, who uses his travel business in Egypt to bring people of the east and west together in friendship through spiritual pilgrimage. Raised in Cairo, and educated in both Egypt and the US, he believes this is how peace in the world is created.
Through terrorism and 9/11, political turmoil and revolution, Nazmy witnessed barriers of fear, intolerance, and prejudice wedging themselves between worlds. Yet he never stopped believing that if he could bring travelers to his beloved country, and expose them to the magic, they would realize that regardless of race, religion, creed, or belief system, we are family.
Through these pages you'll travel deeply into the life and work of a visionary, the mysteries of the sites, and the warmth and charm of the Egyptian people. Included are stories from well-known teachers, scholars and authors, such as Gregg Braden, Maureen St. Germain, Nicki Scully, Normandi Ellis, John Anthony West, and Jean Houston, who have traversed Egypt under Nazmy's guidance. You'll meet noted Egyptologists, as well as the loyal employees of Quest Travel, and revel in the antics of Nazmy and beloved friend and Egyptologist, Emil Shaker. You'll witness how Nazmy unites spiritual truth with his great love of people. And hopefully, through all of these stories you'll find the inspiration to spread your own message of love and tolerance. You'll become what Nazmy calls a "Peace Ambassador."
This is more than a story of travel and tourism. This is a story of how one man has harnessed the magic and mystery of Egypt to create peace, one relationship at a time.
Paperback $19.95 ISBN 978-0-9911898-0-9
Please return to my Home page to order this book from me. You can also order the paperback or E-book on Amazon at https://www.amazon.com/NAZMY-RELIGION-EGYPT-TRAVEL-QUEST-ebook/dp/B010GQST3W/ref=sr_1_8?keywords=Love+is+my+religion&qid=1572466516&s=books&sr=1-8
About the Author:
Sharlyn Hidalgo, traveled to Egypt with Quest Travel in 2007 where she first met Mohamed Nazmy. She became enthralled with the work Mohamed was doing in Egypt to promote peace through travel and especially through spiritual pilgrimage. She wanted to share the story of his life and the important work he is doing in Egypt. After all he has positively affected tens of thousands of travelers. Sharlyn has been back to Egypt many times since first meeting him, and has led two tours there herself. She is dedicated to promoting peace and healing on the planet and sees that Mohamed Nazmy is a mentor and shows us just how we can do that. She is excited to share this uplifting story and the spiritual principles that Mohamed embraces and lives.
She has an MA in Psychology and is a certified practitioner and teacher of Alchemical Healing through Nicki Scully as well as an astrologer, tarot reader, therapist, teacher, healer, artist and author. She is author of the Amazon Best Seller, The Healing Power of Trees: Spiritual Journeys through the Celtic Tree Calendar published by Llewellyn Publications in 2010.
A Few Comments:
Hi, Sharlyn,
I just finished your book and wanted to thank you for transporting me back to many aspects of my visits to Egypt. Great work! I especially enjoyed your descriptions of your experiences in the tombs of Unas and Seti 1. And for providing an expansive perspective on everything that has played out over the years for Mohamed to do what he has done in availing all of us the opportunity to connect with the magic of Egypt.
I enjoyed my journey through your book as in reflection it brought me back to my many amazing experiences in Egypt. Thank you for all your efforts in creating such a wonderful book that captures the essence of Mohamed and his mission for peace through travel. Hopefully, your book will serve to set aside fear some may have and encourage travel to Egypt. Much Love and Light, Susan
I am sorry to report that our beloved Mohamed Nazmy passed away in August of 2018 after suffering a debilitating stroke. We miss him profoundly. His son and daughter will continue to run his company and provided spiritual trips to Egypt. Many of the guides and escorts have struck out on there own and are also providing wonderful spiritual adventures. Mohamed's legacy will be carried out as he trained all of these people. He will not be forgotten.